Welcome to Chesapeake Pediatrics
COVID-19 Pandemic
We continue to be open everyday of the week so that we are available to you for all of your medical needs, but our hours may vary day to day based on demand. 
We will no longer offer walk-in hours from 8-9am, but we will be open everyday starting at 9am for appointments.
We are available to you for different types of appointments: 1. Curbside visits 2. Telemedicine visits and 3. Office visits.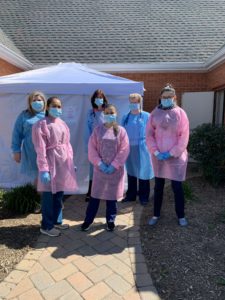 Telemedicine visits are via FACETIME or WHATSAPP.  If you choose to make a televisit via one of these platforms, you will still need to call the front desk to make an appointment and you will be given an appointment time with other instructions. 
Curbside visits are in our private outdoor area if you prefer to be seen outside. For curbside visits, we will still require that you remain in your car and call for check-in to wait to be seen. We will also continue to screen everyone regarding recent travel and contacts, and we will maintain the one parent only during a visit at our curbside area. 
For appointments inside of the office, you must call the office from the parking lot while you remain in your car. You will call the front desk to check in. When you are ready to be seen for your appointment, the front desk will call back your phone to have you enter the building to be put back immediately into an exam room by the nurse. 
We are taking every precautionary measure to ensure the safety of you, your child, and our staff. We continue to sanitize between patients and ask that you do your part to keep everyone safe too. Please continue to take the necessary precautions inside and outside of our office. Wash your hands and maximize social distancing. 
Please continue to adhere to the coronavirus recommendations. 
Thank you for your understanding and patience during these unusual times.
REMINDERS:
1.In general, coronavirus disease (COVID-19) has been mostly a mild disease in children that can be managed at home.
2.At this point, any healthy person, including a child who has a fever, cough, sore throat or mild respiratory symptoms is advised to self-isolate at home.
3.Self-isolation at home includes staying home and focusing on hygiene and social distancing. Here is some guidance:
-Have friends or family members bring necessary items to your front door.
-If you must leave the house, all sick family members should wear a mask.
-Try to stay at least 6 feet away from other people. This is called "social distancing."
-It may be difficult for parents with young children to maintain distance from them, but doing this with other people who live in the home (e.g., grandparents, siblings).
-In particular, keep your child away from family members who are age 65 or older or who have serious medical conditions.
-Avoid play dates and birthday parties — even with small groups of people.
-Have all family members with cough or fever sleep in separate rooms and use separate bathrooms, if possible.
-Avoid sharing items such as cups, utensils, pillows and blankets.
-Clean surfaces and toys with recommended COVID-19 cleaning products, such as usual household disinfectants or a weak (10%) bleach solution.
-Keep these products stored in cabinets that are either too high for your child to reach or behind childproof cabinet locks.
4.Access to COVID-19 testing is currently very limited. In general, pediatric patients are only being tested if they will likely require hospital admission.
5.Testing criteria for children in the emergency department are very strict and, due to limited resources, most children will NOT be tested, and will be sent home to self-isolate at home.
6.Avoiding the emergency room minimizes risk of infection for you, your child and vulnerable populations, including elderly family members, those who are immunocompromised and health care staff members. The emergency room is NOT a location for coronavirus testing for most children.
7.We must continue to keep children safe from other conditions and circumstances that can put their health and well-being at risk.
8.Pediatricians will continue to prioritize vaccinations for infants who remain at risk of severe illness from other types of infections. And we are here to speak with parents and families about the other needs they have, including information on how to access food and deal with the stress that comes with the uncertainty and drastic changes to daily life that are occurring in response to the pandemic.
If your child has a chronic medical condition or is immunocompromised, we recommend similar precautions to what we recommend for other children and adults.
Stay at home and practice social distancing — it is OK to go for walks outside while keeping a 6-foot distance between yourselves and others who are not part of your household, but don't go to playgrounds or crowded areas.
CITED from Johns Hopkins Children's Center
Emotional & Mental Health Support
We recognize that these are unsettling and trying times which may create stress and anxiety. We are open and here for you. If you or your loved ones are having a difficult time coping with the outbreak there are also crisis hotlines, which may be able to assist you:
Maryland Youth Crisis Hotline 1-800-422-0009
Disaster Distress Helpline
Call 1-800-985-5990 or text TalkWithUs to 66746
National Suicide Prevention Lifeline
Call 800-273-8255 
Crisis Textline
Text TALK to 741741
FACEMASKS
Please consider wearing any form of a face mask for your protection and the protection of others. To stop the spread of coronavirus. Remember that facemasks are not a substitute from social distancing and you should continue to stay home and keep 6 feet of distance between you and non-immediate family members.
https://www.cdc.gov/coronavirus/2019-ncov/prevent-getting-sick/diy-cloth-face-coverings.html
SOCIAL DISTANCING:
For social distancing to work… each household needs to act like an island and know that a single visit to or from someone outside of your household (island) can be detrimental.
Social distancing should AVOID anyone outside your IMMEDIATE HOUSEHOLD. It doesn't include going to a friend's house, play dates or visiting grandparents or extended families.
Use all the technology we have to keep in touch with family and friends. Facetime, Zoom etc. Have a party, a play date or get together that way!
IF YOU SUSPECT YOU HAVE BEEN EXPOSED TO CORONAVIRUS OR YOU HAVE A CLOSE CONTACT WHO HAS BEEN EXPOSED AND TESTED POSITIVE TO COVID-19, PLEASE INFORM US SO THAT WE MAY GIVE YOU FURTHER INSTRUCTIONS.
REFER TO THE LINKS BELOW:
https://coronavirus.maryland.gov
https://aahealth.org/coronavirus/
https://www.cdc.gov/coronavirus/index.html
https://www.who.int/emergencies/diseases/novel-coronavirus-2019
Our pediatricians, Dr. Coyner & Dr. Jobes, and our pediatric nurse practitioner, Lindsay Ward, are proud to serve the Annapolis community at one of the oldest pediatric practices in Annapolis, Maryland.
It was originally founded in the 1960's by Dr. Frank Kopack, Dr. Perry Shelton, and Dr. Kenneth Hoffman. The practice maintains the personal touch that they all inspired.
For over 50 years, Chesapeake Pediatrics has provided superior healthcare to infants, children, adolescents, and young adults. We are proud to serve generations of families caring for children, grandchildren, and great grandchildren of former patients!
We have remained small providing access to same day appointments without long waits. We are the only practice that answers the phone with a staff member, not an automated answering menu.
Dr. Coyner, Dr. Jobes, & Lindsay Ward are available to address your concerns 24 hours a day, 7 days a week. Our goal is to provide excellent pediatric care in a friendly environment with a common sense approach.