Welcome to Chesapeake Pediatrics
We are resuming "walk-in" appointments from 8-9am. You will still need to remain in your car and call the office at 410-224-3663 to let us know you have arrived. Our waiting rooms remain closed.
Same day appointments are available everyday.
Same day rapid COVID testing available.
STATE OF MARYLAND
COVID TESTING SITES (rapid & PCR): https://coronavirus.maryland.gov/pages/symptoms-testing
COVID VACCINE SITES: https://coronavirus.maryland.gov/pages/vaccine
COVID-19 Pandemic
All adults and children over the age of 2 years are required to wear a face mask at all times. We can not provide face masks. If you arrive without an appropriate face covering, you will have to reschedule your appointment.
We are offering other types of appointments:
1. Curbside visits are weather dependent. They are in our private outdoor area if you prefer to be seen outside. For curbside visits, we will require that you remain in your car and call for check-in. 
2. Telemedicine visits:  If you choose to make a virtual visit, you can call the front desk to make an appointment and you will be given an appointment time with other instructions.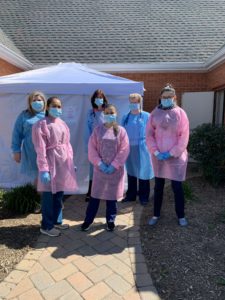 We are taking every precautionary measure to ensure the safety of you, your child, and our staff. We continue to sanitize between patients and ask that you do your part to keep everyone safe too. Please continue to take the necessary precautions inside and outside of our office. Wash your hands, wear a face covering, and maximize social distancing. 
Please continue to adhere to the coronavirus recommendations. 
Thank you for your understanding and patience during these unusual times.
Emotional & Mental Health Support
We recognize that these are unsettling and trying times which may create stress and anxiety. We are open and here for you. If you or your loved ones are having a difficult time coping with the outbreak there are also crisis hotlines, which may be able to assist you:
Maryland Youth Crisis Hotline 1-800-422-0009
Disaster Distress Helpline
Call 1-800-985-5990 or text TalkWithUs to 66746
National Suicide Prevention Lifeline
Call 800-273-8255 
Crisis Textline
Text TALK to 741741
Our pediatrician, Dr. Coyner, and our pediatric nurse practitioners, Lindsay Ward & Morgan Stankiewicz, are proud to serve the Annapolis community at one of the oldest pediatric practices in Annapolis, Maryland.
It was originally founded in the 1960's by Dr. Frank Kopack, Dr. Perry Shelton, and Dr. Kenneth Hoffman. The practice maintains the personal touch that they all inspired.
For over 50 years, Chesapeake Pediatrics has provided superior healthcare to infants, children, adolescents, and young adults. We are proud to serve generations of families caring for children, grandchildren, and great grandchildren of former patients!
We have remained small providing access to same day appointments without long waits. We are the only practice that answers the phone with a staff member, not an automated answering menu.
Dr. Coyner, Lindsay Ward, & Morgan Stankiewicz are available to address your concerns 24 hours a day, 7 days a week. Our goal is to provide excellent pediatric care in a friendly environment with a common sense approach.